Find Your Dream Honeymoon Destination in Western Australia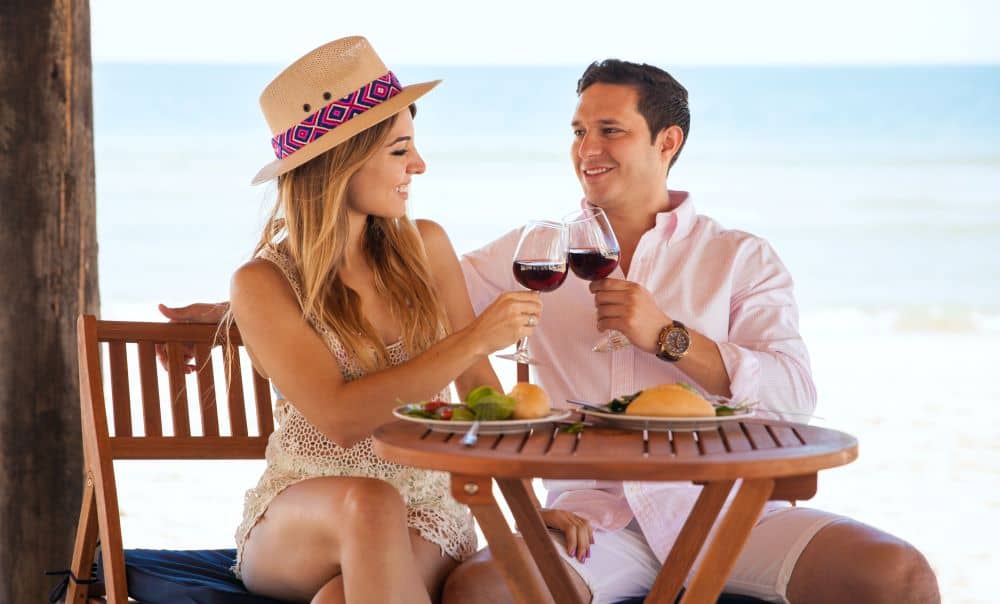 You have spent months planning your wedding. You have seen to every detail, stressed about every possible problem, and poured your heart into making the day you marry your soulmate perfection.
You have EARNED an incredible honeymoon.
While there are scores of beautiful places to head for your honeymoon, make sure you do not overlook all of the marvellous options that Western Australia has to offer. You have options galore for a Western Australia honeymoon. Whether you are looking for high-end contemporary, romantically rustic, or anything else in between, look no further than WA.
Check out these ten glorious getaways, and you might find your dream destination.
1. Bali Hai Resort & Spa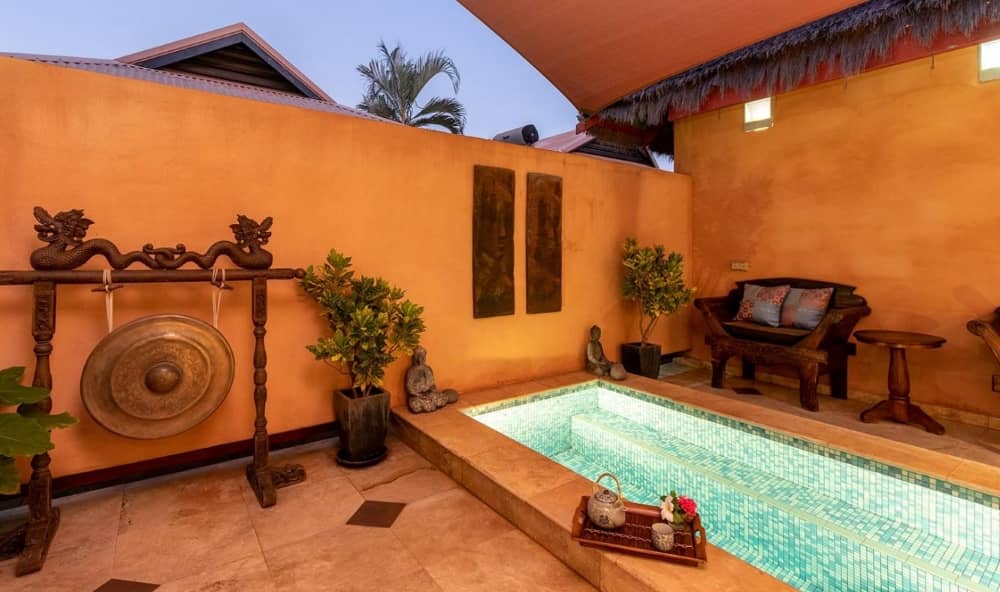 6 Murray Rd, Broome, Western Australia 6726
Indulge yourself and your spouse in a honeymoon at the Bali Hai Resort and Spa. The resort is just steps away from the white sand beaches and turquoise waters of Cable Beach. Stroll through the exotic grounds and feel the sun-kissed breezes.
Enjoy luxury and privacy in the self-contained villas. You will have all of the comforts of home at your fingertips. Indulge in fabulous meals in the Bali Hai Cafe and relax your cares away in our spa. A honeymoon at Bali Hai is an adventure in exotic decadence.
2. Pullman Bunker Bay Resort Margaret River Region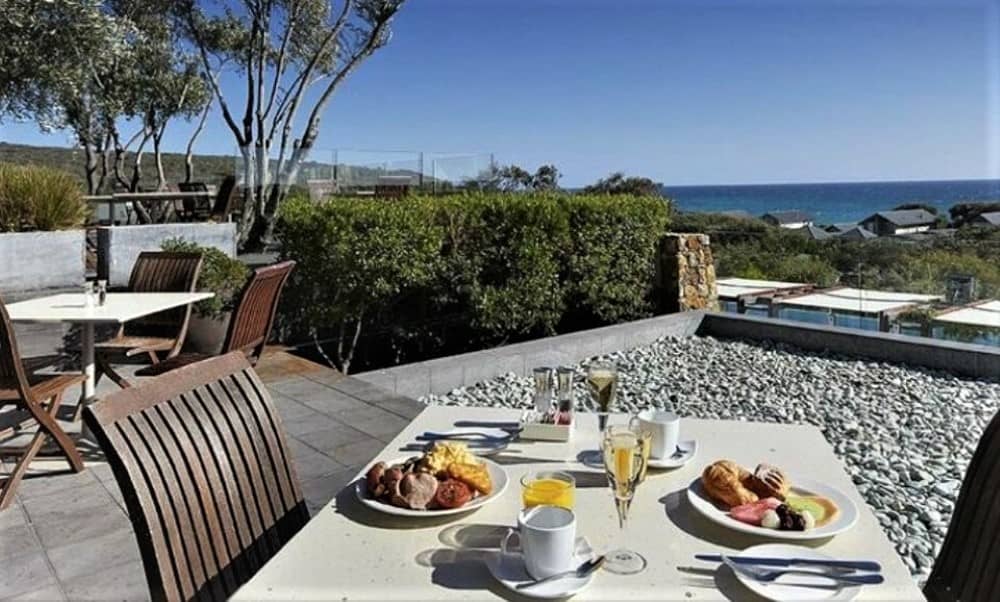 42 Bunker Bay Rd Naturaliste, Western Australia 6281
Just a three-hour drive south of Perth, you will find a honeymooner's paradise. The five-star resort Pullman Bunker Bay. The resort sits on 35 acres of gorgeous native gardens, puts you steps away from the enchanting waters and pure white sands of Bunker Bay. Even while in this exotic paradise, you are also in the heart of the Margaret River wine region, with easy access to enticing local vintages.
Gourmet meals can be brought to your villa, or enjoy unique fine dining in the Other Side of the Moon Restaurant. Talented chefs use fresh local offerings and lean towards the flavours of indigenous-inspired foods. Being in the middle of wine country, you can easily find the perfect local wine to accompany your meal.
3. Rendezvous Hotel Perth Scarborough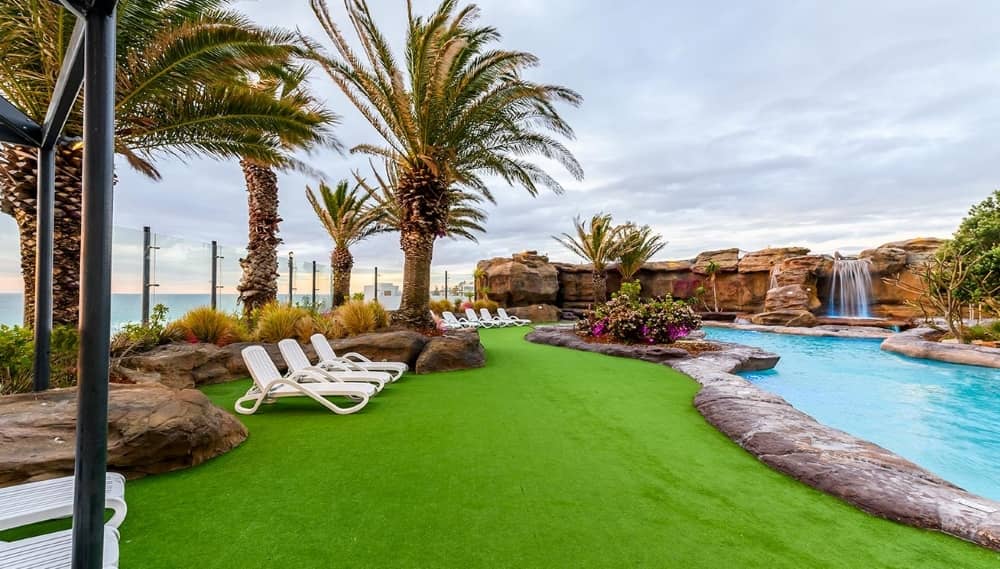 148 The Esplanade, Scarborough Perth Western Australia 6019
If you would like a luxury destination without a lot of travel time, the Rendezvous Hotel Perth Scarborough could be your perfect honeymoon location. It is just 20 minutes northwest of Perth. Even though the location is convenient, you will have a taste of secluded elegance.
At the Rendezvous Hotel, you can relax and enjoy couple-time in one of many choices of rooms. The beach is mere steps away, and you can also enjoy the world-class lagoon-style pool complete with a delightful waterfall. You and your spouse explore local dining options or enjoy in-room dining while you gaze at the beach or city lights from your balcony.
4. Balingup Heights Hilltop Forest Cottages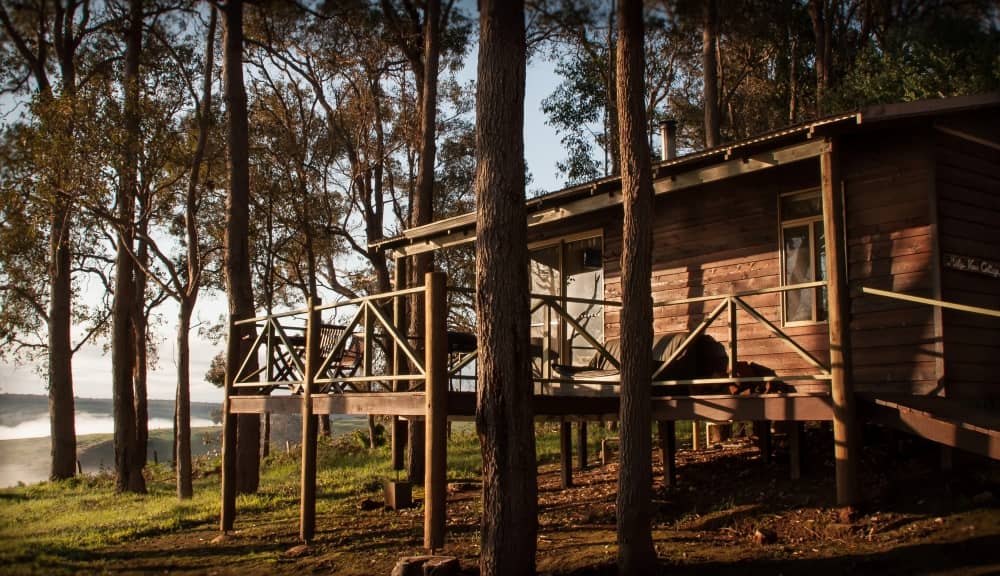 65 Balingup-Nannup Rd, Balingup WA 6253
If a secluded retreat to nature sounds like an idyllic honeymoon, look no further than Balingup Heights Hilltop Forest Cottages. These award-winning five-star cottages are set above the mist line on 25 acres of forested land. You can reach this natural paradise by taking a scenic two-three-hour drive from Perth. Nature-loving couples will be in their private heaven in their well-appointed cottage.
While you will have all of the amenities of the home, including a fully equipped kitchen, you may order breakfast hampers and evening meal platters for your cabin if you prefer. Spend your time hiking, watching the natural wonders around you, or connecting with your new partner. This one of a kind experience will stay with you for the rest of your life.
5. Yallingup Award Winner – Stunning Couples Retreat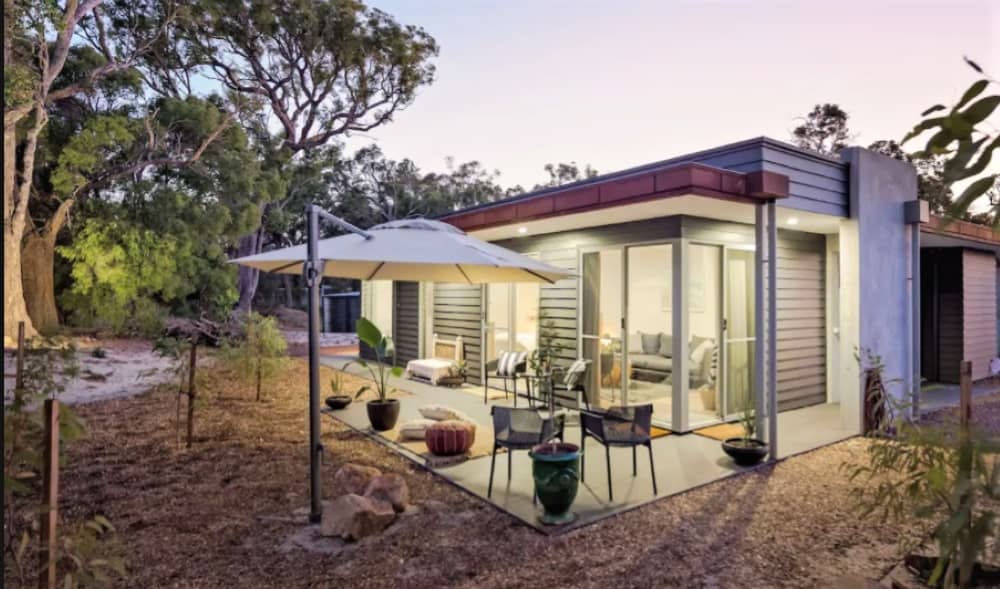 Superhost: Lisa Airbnb Yallingup, Western Australia, Australia
If an Airbnb is more your style, be sure to check out this award-winning couples retreat in Yallingup. The villa is on a secluded bush block and features panoramic ocean views. Relax under the Peppermint trees and watch plenty of local wildlife. The mountain views are also yours to enjoy. You are only a ten-minute drive to beaches, restaurants, cafes, and hiking trails from this location.
This enchanting villa has all of the comforts of home and features a hot outdoor shower, two-person freestanding bath, open plan lounge, and a new queen-sized bed. You will have the whole villa to yourself so you are sure of plenty of privacy.
6. Eco Beach Resort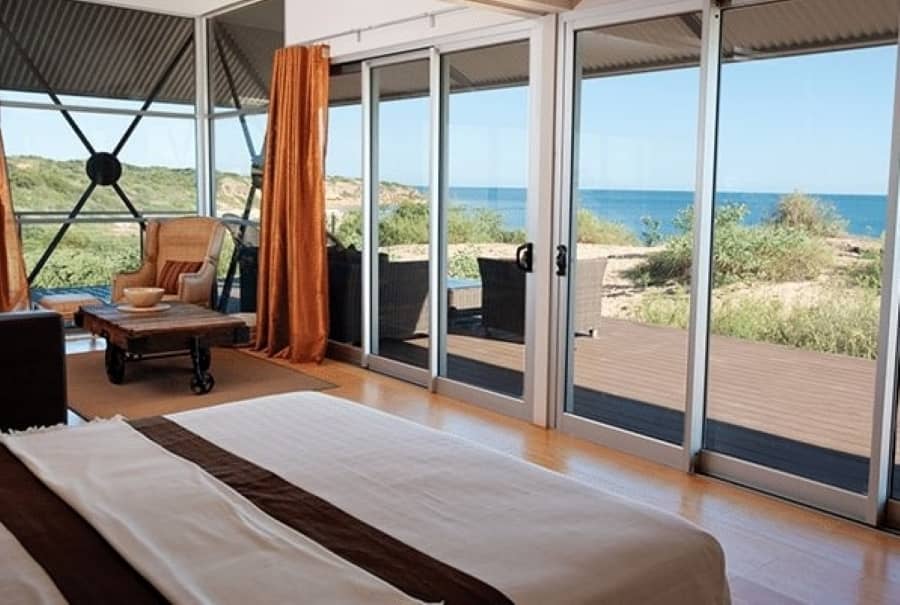 Lot 323 Great Northern Highway, Broome, Western Australia 6725
If you and your spouse want a unique and romantic getaway, take a closer look at Eco Beach Resort in Broome. Enjoy a glorious honeymoon on the fabulous Cape Villaret coastline with stunning and undisturbed views of the Indian Ocean just outside your door.
At Eco Beach, you can choose from luxury beach houses, secluded Eco Villas, and unique safari-style tents. All accommodations are designed to meet your every need and indulge your senses by surrounding you with natural beauty. Beach houses and Eco Villas have kitchen and kitchenette facilities. Guests also enjoy sumptuous dining on local cuisine at Jack's Bar and Restaurant. For an extra special treat, enjoy a day at our spa with your special someone.
7. The Billi Resort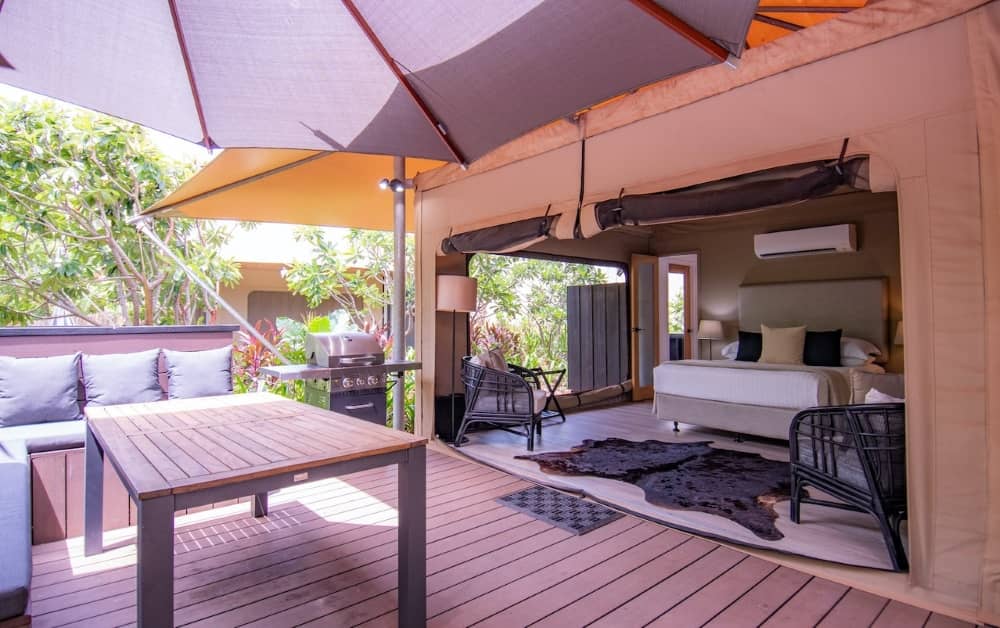 97 Oryx Road (Lullfitz Drive), Cable Beach, Western Australia 6725
A luxurious boutique resort in Cable Beach, The Billi Resort offers a brilliant combination of luxury, privacy, and natural surroundings that would thrill any honeymooning couple. At The Billi, guests have the option of staying in a cosy self-contained studio room, elegant one- and two-bedroom villas, or exotic luxury tents for the ultimate outdoor experience with all of the indoor comforts you expect. All accommodations feature private decks and are nestled under a glorious canopy of trees.
As a guest at The Billi, you are a short stroll away from Cable Beach, and you are also welcome to use the centrally located resort pool. As a self-catering resort, The Billi will happily direct you to local dining venues or shops so you can stock up on your favourite foods.
8. The Ritz-Carlton, Perth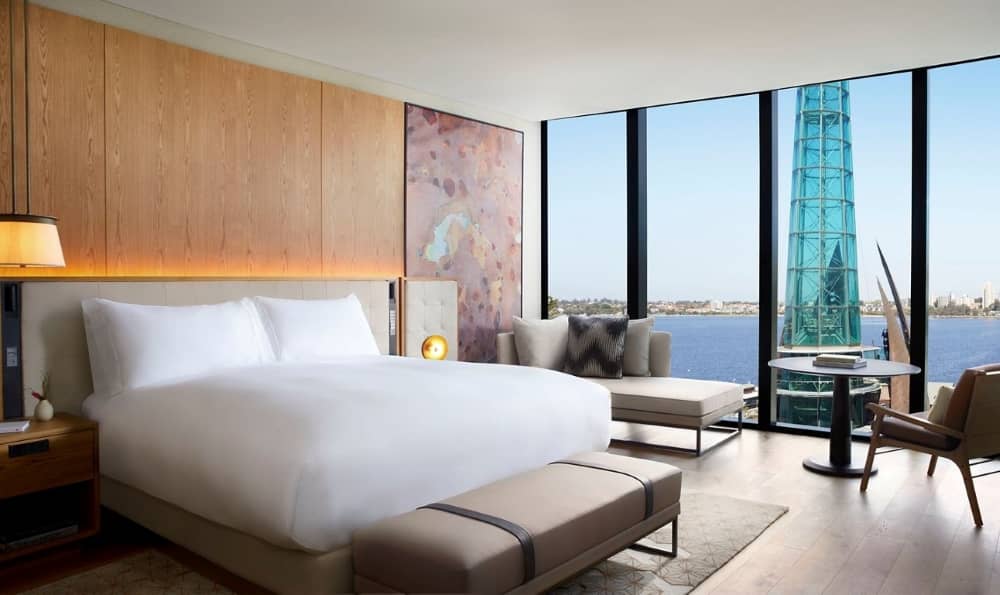 1 Barrack St, Perth, Western Australia 6000
Even though the beach and back-to-nature honeymoons are popular, there are still fantastic honeymoon options for couples who enjoy a metropolitan setting: case and point, the unparalleled elegance of the Ritz-Carlton in Perth.
The gleaming towers of the Ritz sparkle in the sun on the banks of the Swan River and beckon guests to come and enjoy. Inside, the hotel's 205 guest rooms and suites are tastefully appointed, offering guests comfort and luxury throughout their stay.
Fine dining featuring locally sourced delicacies and regional favourites is available in the Hearth Restaurant. Guests can enjoy shared plates and cocktails at the rooftop bar. For a relaxing interlude, enjoy a spa day or a swim in the infinity pool. The award-winning Ritz-Carlton is an urban paradise for honeymooners.
9. Discovery Rottnest Island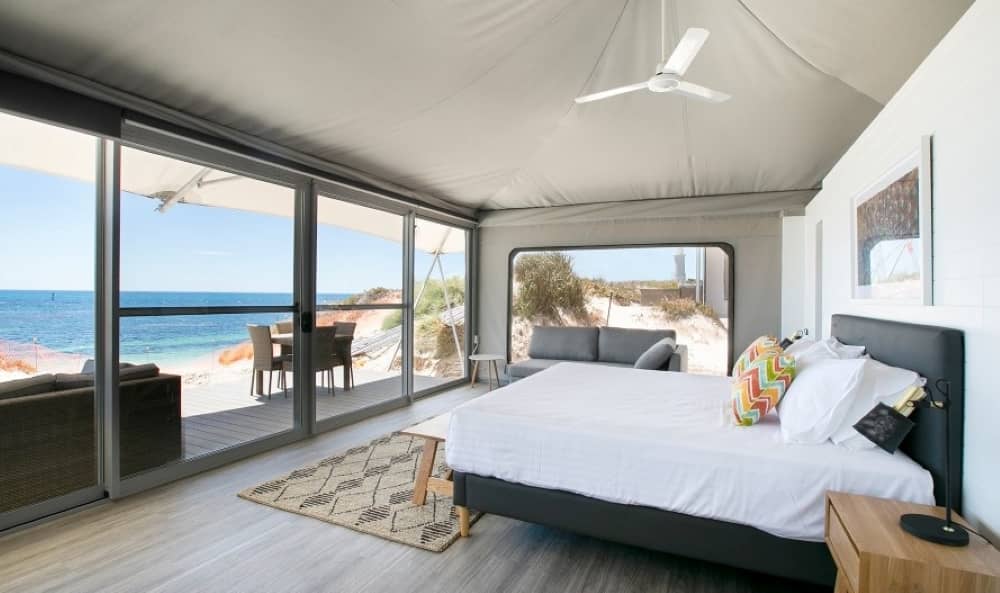 Strue Rd, Rottnest Island WA 6161
For a unique romantic honeymoon with a different twist, hop the ferry to Rottnest Island and enjoy luxurious accommodations in one of Discovery Rottnest Island's 83 tents.
Located just behind the dunes of Pinky Beach, the grounds feature raised boardwalks, a guest pool with a poolside bar, direct beach access, and several BBQ. You can choose your level of luxury tent when booking. The superior and deluxe tents offer more space, kitchenettes, and larger bathroom space. All tents feature ensuites, pillowtop mattresses, and furnished decks.
Pinky's Beach Club offers all-day dining with a menu that focuses on locally sourced Rottnest seafood and other locally produced foods. In the evening, Pinky's Beach Club is one of the best places on Rottnest Island to enjoy a glass of wine and watch the sunset.
10. Smith's Beach Resort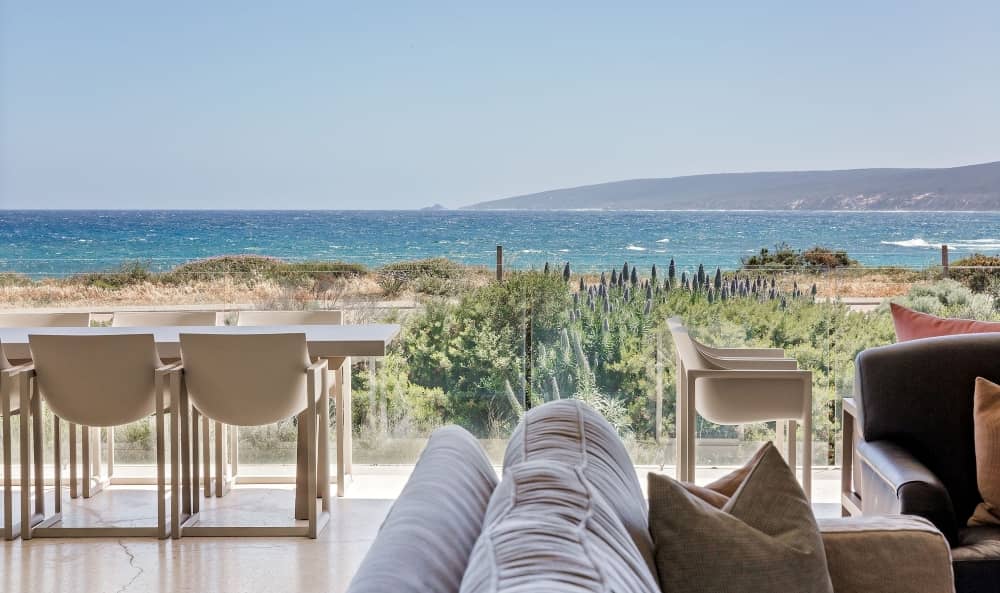 67 Smiths Beach Road, Yallingup, Western Australia 6282
If you and your beloved are true beach enthusiasts, a honeymoon at Smith's Beach Resort would be a dream come true. The award-winning resort sits on the coast in between Cape Naturaliste and Cape Leeuwin on the spectacular Cape to Cape walking track. A short stroll will find you on Smith's beach, where you can enjoy the best of the laid-back beach life, then return to your luxurious accommodations.
Smith's Beach Resort offers you a great many options for your stay. Comfortable beach shacks with one and two bedrooms provide a separate bedroom, living areas and fully equipped kitchens. One-, two-, and three-bedroom villas provide guests with more space to spread out as well as romantic fireplaces. For larger groups, two-, three- and four-bedroom beach houses give you the ultimate in understated luxury in spacious surroundings.
You can enjoy meals prepared in your kitchen or indulge in the inspired cuisine served at Lamont's Restaurant. If you are looking for the best of both worlds, you can enjoy dinner prepared by a chef in your suite. In-room massages and specially prepared hampers of goodies are also available to enhance your indulgent experience.
Keep in mind that this list is just a sample of the elegant, exotic, and exciting honeymoon options you can discover in Western Australia. In the nation's largest state, there is something for everyone.